Offered exclusively to our design customers: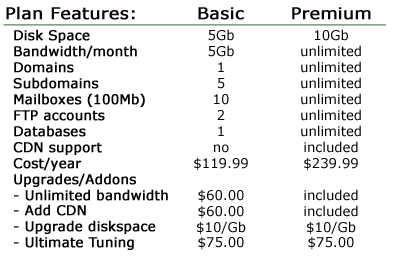 Premium hosting offers all the resources necessary to run a complex website. Addons include:
Unlimited bandwidth: for sites serving video and other bandwidth-limited resources, this upgrade eases bandwidth metering.
CDN support: your static content (images, scripts, and lots more) are duplicated onto a content management system which serves these files to your visitors with enhanced speed.
Upgrade disk: for $10/GB/year, increase your disk allocation for sites with high storage requirements.
Ultimate tuning: provide soup-to-nuts tweaking to optimize performance, coupled with quarterly reviews and updates.
Back to: Hosting Overview